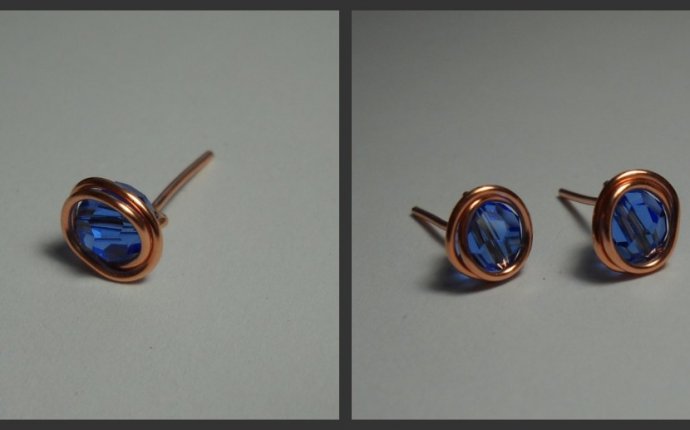 Simple wire earrings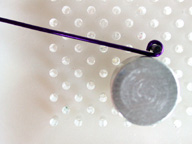 Instructions for making Simple Wire Earrings out of jewelry wire, beads and jewelry supplies using WigJig jewelry tools:
The definition of a great jewelry making project is one that is easy to make, quick to make and that makes jewelry that is very popular. These "Simple Wire Earrings" are all of the above. It takes about five minutes to make a pair of earrings. The two earrings at right use a single 6mm bead and a head pin for each earring. The pearl earring uses a Swarovski Crystal Pearl bead in the color "cream rose". The other earring uses a Swarovski Aqua Crystal bead in the "cube" style.

Simple Earrings

5 inches of 20G gold-filled or sterling silver jewelry wire
Two 1 1/2" head pins
Two six mm crystal beads

Any WigJig acrylic jewelry tool
One 1/2" Super Peg for your jig
Round Nose Pliers
Flush Cutter
Chain Nose or Bent Chain Nose Pliers (2)
1 metal peg
Cup Bur
Chasing Hammer
Anvil
10 minutes of free time

Ability to straighten jewelry wire using nylon jaw pliers jewelry tool.

Ability to cut jewelry wire using flush cutter jewelry tool.

Ability to make a loop in jewelry wire using round nose pliers or step jaw pliers jewelry tools.

Use of a WigJig jewelry tool and Super Peg to make an ear wire.

Ability to make a bead dangle using a head-pin and a bead using common jewelry tools.

Ability to connect jewelry wire components by opening and closing loops using bent chain nose pliers jewelry tools.
Step-by-step instructions for making Simple Wire Earrings using WigJig jewelry tools, jewelry wire, beads and common jewelry supplies:

Step 1: and a piece of 20 gauge sterling silver or gold-filled jewelry wire 2 1/8 inches long. You can use soft wire or half-hard jewelry wire. If you use soft jewelry wire you will need to harden the ear wire component that you make by hammering it with a chasing hammer and anvil. If you use 1/2 hard wire you won't need to harden the finished piece, but the size if the finished ear wire will be bigger than the size of the Super Peg that you use, so you may want to use a 3/8" Super Peg instead of the 1/2" Super Peg Shown.

Step 2: Make a loop in the end of the jewelry wire with the flush cut end.

Step 3: Place a 1/2" Super Peg (soft wire) or a 3/8" Super Peg (1/2 hard wire) into any WigJig jewelry tool along with a single metal peg. Place the metal peg as shown at right, so that it is close to the Super Peg, preferably one thickness of the 20 gauge wire away. Place your initial loop in your jewelry wire on the metal peg as shown.

Step 3 on WigJig Delphi

Step 4: Wrap the jewelry wire around the Super Peg as shown at right.

Step 5: Remove the wire from the WigJig jewelry tool and cut off the excess jewelry wire about 3/16" from the initial loop.

Step 4
Source: www.wigjig.com