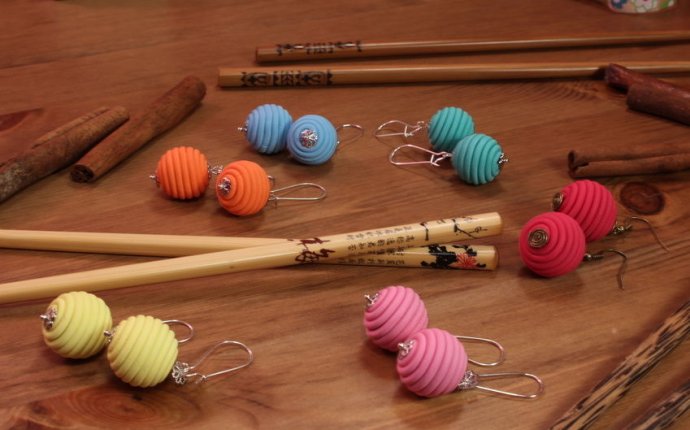 How to make simple earrings?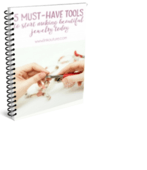 I sat on my bed in my tiny 2-bedroom apartment that I shared with my best friend, my body bent over a pile of swirly turquoise beads the color of the ocean spread out on my duvet and a pair of crimping pliers in my head.
Diligently following the directions that came with the kit I had purchased from A.C. Moore the previous day — a kit that took me about 30 minutes to decide on — I slowly and carefully strung each individual bead on the string.
After a failed attempt trying to close up a crimp bead and muttering a selection of colorful words under my breath, I tried it again.
My eyes lit up as I realized I had made my first piece of jewelry in about a decade. Nevermind that it looked like a child had made it and I would only wear it a handful of times. I had mastered a brand new technique (for me). I wanted to jump and shout with excitement.
People, I MADE this! Do you not realize how monumental this is?
(I think my roommate was less impressed than I, but who cared?)
There is an incredible sense of pride when you make something with your hands for the first time, a warmth that fills your body like a mug of velvety rich hot chocolate.
Even though I made that bracelet well over a decade ago, I still remember that feeling.
You don't need to make anything complicated to feel that sense of pride. Sometimes the most beautiful things that fill you with a sense of accomplishment can be made in ten minutes or less.
Like these DIY fancy earrings.
Yes, you are going to learn how to make simple earrings at home. They are way easier to make than you might think at first glance, and you will feel amazing each time you put them knowing that you made them with your own two hands.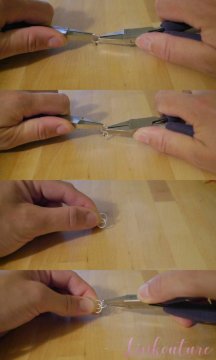 Ready to learn how to make dangle earrings with beads?
YOU CAN PURCHASE MOST OF THESE MATERIALS ON FIRE MOUNTAIN GEMS or you can purchase a kit that includes all of the materials you will need for this DIY earrings tutorial (minus the tools).
To get started with this DIY fancy earrings tutorial, take three of the largest jump rings (7.0 mm) and close one of them (you know it's closed well when it makes a nice click and the two ends are flush). Take a second one and loop it through the first jump ring and close it. Take the two looped jump rings and hold them so that there is a space between where they overlap. Think of it as you are making a very small Venn diagram with your jump rings. In that space, loop the third jump ring and close it up. You've got the first spiral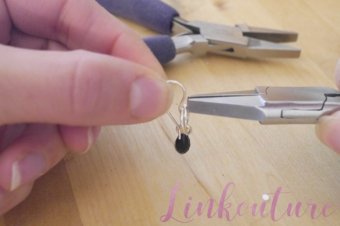 Take a small jump ring and loop it through the briolette and then loop it through your spiral. Close it up so that the briolette is securely attached to the spiral.
Open the loop of your ear wire. Hang the spiral on it and close it up tight.
Repeat all the steps to create the second earring, and like magic you've whipped up a gorgeous pair of earrings in under 10 minutes.
Now tell me you don't feel incredible.
Are you ready to learn how to make beautiful jewelry with ease?
Join 596 subscribers and get your free guide, 5 Must-Have Tools to Start Making Beautiful Jewelry Today. You'll also receive awesome tutorials & updates delivered straight to your inbox!
Thank you so much for signing up! My hope is for you to develop the skills and confidence to make beautiful jewelry that will brighten the lives of those around you. Be sure to check your inbox where you should see an e-mail waiting that asks you to confirm that you signed up to receive e-mails from me.
Source: www.linkouture.com