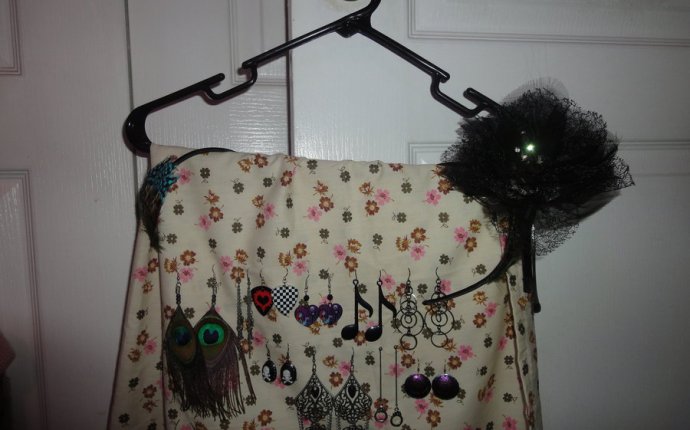 Handmade Earring holder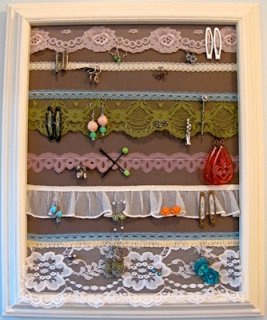 By Amy.
(H is for Handmade)
This would be a great project to customize to your own shabby-chic taste!
When Amy wanted a pretty way to store her earrings, she came up with this clever and very cheap earring display idea.
First she hunted up a thrift-store picture frame with cardboard insert, a piece of fabric, and some interesting scraps of lace.
Then she did a bit of sewing and pressing to attach the lace strips to her fabric.
After that, she mounted the lace-trimmed fabric to the cardboard, using some double-sticky tape to attach the folded-over fabric edges to the back of the cardboard.
Finally, she set the newly lace-and-fabric-covered cardboard into the picture frame.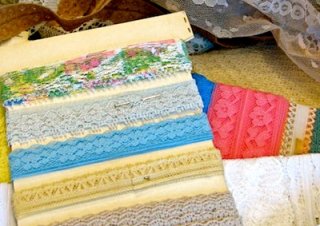 The lace strips are perfect for hanging nearly any kind of earring, as well as brooches, pins, barrettes and hairpins.
And best of all?
This lovely lacy earring holder took Amy only an hour to make, and cost her just $3.
Be sure to see Amy's full tutorial, including more photos, on her blog:
Amy
Lace Earring Holder Tutorial
H is for Handmade
Comments:
Lace Earring Holder
by: Rena
Thanks so much for sharing this lovely earring display idea with us, Amy!
This would also make a nice gift for jewelry-wearing girls of any age.
ilove the frame
by: pat barden
that is cool–incredibly fetching–and ilove that it is framed–ijust boght small tri-fold cardboard display cards–iwas just gogoing to use fancy sewing pins–ithink now–after seeing your display–im gogoing to pin necklace ribbons ihave no use for onthe board–and hang me earrings from that–
thankye–and im a hopin' ye dont mind me using the idea–YOUR idea
friday night
by: Anonymous
so pretty after seeing the frame i am making one for my little girl and this is my Friday night
Cool
by: Kristina
I've seen similar jewelry displays using lace, but they always used one large piece. Your idea is a good one since it can highlight different earring types and colors with the differing colors of lace.
Source: jewelrymakingjournal.com