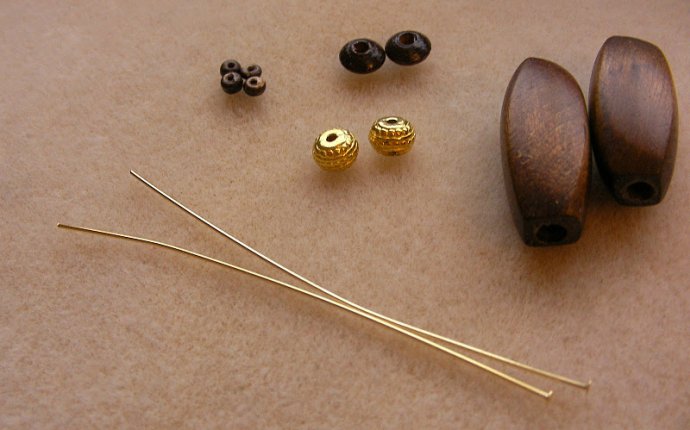 Earrings how to make?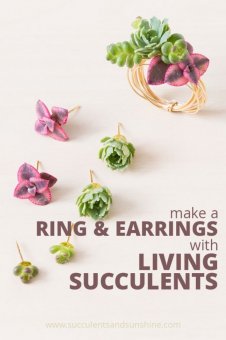 A couple years ago I went to the Succulent Celebration at Waterwise Botanicals and purchased a set of succulent earrings made by the wonderful Laura Eubanks.
I had so many people comment on them and wonder where they could buy their own. While Laura doesn't sell these earrings other than at local events, she did share how she made them and it's so simple!
A friend of mine is planning to use succulents for her wedding and I thought I would be fun to come up with a unique way to use succulents. I thought making my own earrings and a ring would be something fun to try.
I made something similar for a blogging conference I went to and people loved them! So, here's how you can make your own!
First off, here's what you'll need:
Let me tell you a little bit more about the floral glue. I tried using a variety of glues when making these earrings and rings. I tend to use hot glue for a lot of my succulent projects, but it was way too bulky for this project.
Plus, something this delicate needs to adhere to the succulents really well which hot glue does not. I also tried using a different kind of floral glue but it didn't set very fast. Neither did Aleene's clear tacky glue (which I've used for other projects).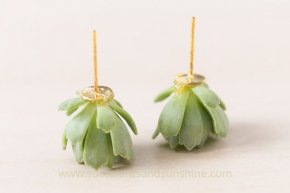 So, the reason why the Oasis Floral Glue is so great is that it dries quickly and a small amount is still strong enough to hold on to the succulents. You'll still need to hold the succulents in place for about a minute, but it's much better than having them move around after a half hour or more. Thus, I highly recommend getting the Oasis Floral Glue.
Now the fun part, succulents! You'll want to use small succulents for these. If you've been propagating succulents from leaves, those baby rosettes would be perfect! I'd also recommend looking into using a variety of sedums.
For these I used Crassula marginalis rubra variegata, White Diamond Stonecrop, and Sedum dasyphyllum. A few other succulents that would work well are Sedum hispanicum, Sedum 'Capo Blanco', Cremnosedum 'Little Gem', Crassula 'Baby's Necklace', and Crassula 'Tom Thumb'.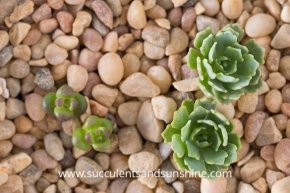 There are plenty of succulents that will work for this, so find a miniature succulent that you love!
Earrings
To make the earrings, put a dab of floral glue on the earring post. Next, gently place the succulent on the glue. Pull it off slightly and press back down to help the glue dry faster. If the succulent will stay in place upside down, that is the easiest way to let the glue dry. Otherwise, you can hold the earring until it dries (a minute or two if using the Oasis Floral Glue), or place it in pebbles or foam to hold it upright until dry.
Ring
The ring is slightly more difficult to make, at least if you do it with wire. To make the wire ring, wrap wire around the ring mandrel on the desired size. You can wrap more or less wire around depending on how thick you want your ring to be.
Once you have a thickness you like, cut the wire. Wrap a smaller piece of wire around the main part of the ring to keep everything secure. Once you have that done, you can start gluing on succulents! This was more exciting to do that the stud earrings because I got to add several succulents. It's pretty elaborate, but hey, you want to make a statement right?
Care
You'll want to be careful when you are wearing the earrings and the ring especially. Keep in mind that these are pretty delicate and may fall apart if you aren't careful. I put my coat on while wearing the ring and several of the succulents fell off. While the glue does keep things secure, the pressure from sliding through the sleeve of my coat was too much.
Source: www.succulentsandsunshine.com