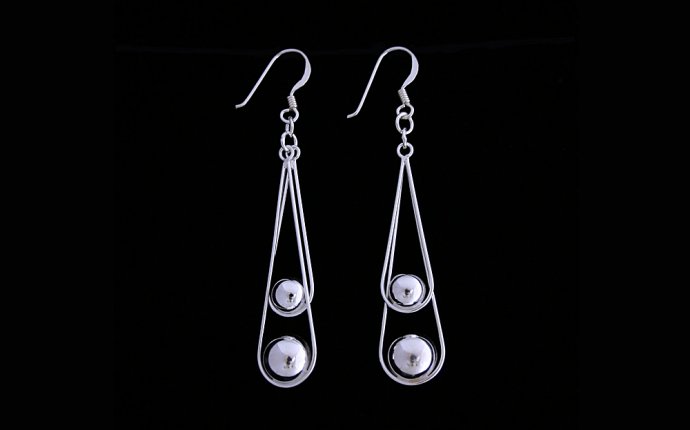 Sterling silver Bead earrings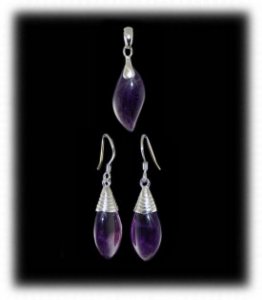 Bead Earrings
For a long time Bead Jewelry has been an extremely popular form of adornment, in fact, the first jewelry ever made was bead jewelry. Here at Durango Silver Company we specialize in gemstone beaded jewelry. Bead Earrings have been in style for hundreds of years around the world, however, jewelry styles have changed dramatically over the years. Durango Silver Company has collected many different types of gemstone beads for over 40 years and have been using them to make bead earrings for decades. As we are from the Southwest, we specialize in Turquoise Beads and we make a lot of Turquoise Bead Earrings.
We have created this informational page on Bead Earrings to give you an idea of the type of Bead Earrings that we produce with descriptions of each beaded earring so you have an understanding how and why our Gemstone Beaded Earrings are different from others. We use natural, authentic gemstones in our Bead Earrings and we use Sterling Silver for our findings to make our earrings. Durango Silver Bead Earrings are Quality Bead Earrings!
Bead Earrings - Examples
Above and to the left is a pair of Amethyst Bead Earrings and Pendant Set. These modern Fashion bead earrings and pendant feature beautifully cut deep purple Amethyst briolette style beads. These beautiful Amethyst Beads are set with handcrafted Sterling Silver findings. The Amethyst Bead Earrings are hung from Sterling Silver French wires.
To the right is a pair of Gemstone Dangle Bead Earrings handmade with Turquoise, Coral, Lapis, Sugilite and lime Turquoise Beads. This colorful Southwestern styled bead earrings were made by Nattarika in a treasure design, she calls these Treasure Bead Earrings because they have a treasure of different gemstones used in this one pair of Bead Earrings.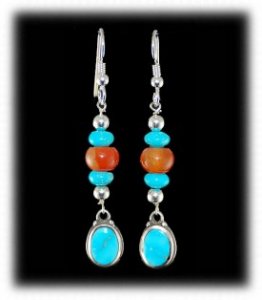 In the photo above on the left hand side is a pair of Carnelian, Blue Gem Turquoise and Silver Bead Earrings made by Dillon and Nattarika Hartman. These attractive dangle Turquoise earrings feature a Sterling Silver and Blue Gem Turquoise medallion, which is hung from Sterling Silver, Carnelian, and Blue Gem Turquoise beads. These Carnelian, American Turquoise beads and silver (.925) beads are set on Sterling Silver wire, which is hung on a Sterling Silver French wire. The Blue Gem Turquoise roundel beads were cut from American Turquoise mined in Nevada, USA. The medallions were made by Dillon Hartman from Sterling Silver and inlaid with natural Blue Gem Turquoise.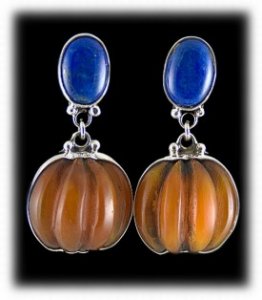 To the right is a pair of Antique Copal Amber Tibetan Prayer Bead and Lapis Sterling Silver Dangle Bead Earrings by John Hartman. Awesome rare Copal Amber Tibetan Prayer bead halves dangle from top grade Natural Lapis Lazuli cabochons in artisan hand crafted Sterling Silver.
More Bead Earrings
Above and to the left is a pair of blue spiderweb Tibetan Turquoise Bead Earrings by Nattarika Hartman. These great fashion Turquoise Bead Earrings focus on two natural blue spiderweb, nugget, Tibetan Turquoise Beads. These beads are set on Sterling Silver and feature daisy pattern Sterling Silver Beads underneath each nugget. These nuggets hang from round Black Onyx beads. This is all hung from a handmade Sterling Silver, Victorian pattern French wire. These blue fashion Turquoise bead earrings were handcrafted in Durango, Colorado USA by Nattarika Hartman.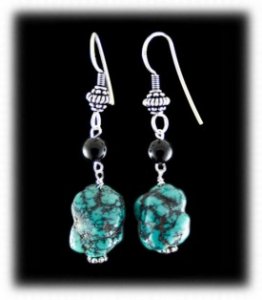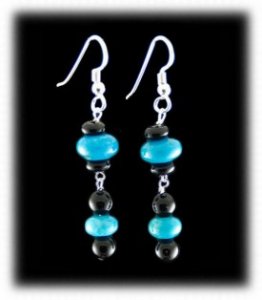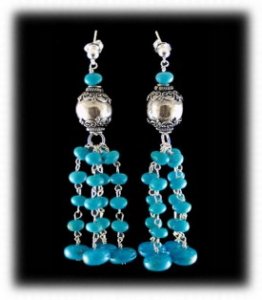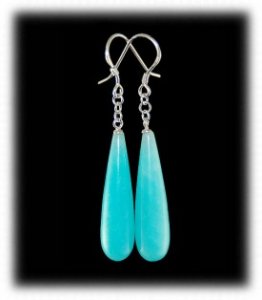 Source: www.durangosilver.com