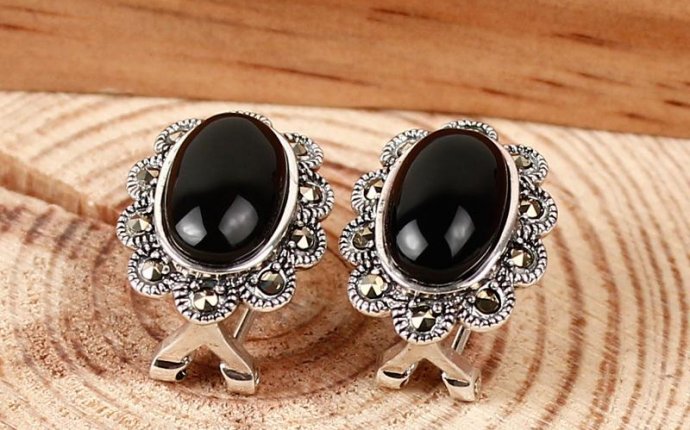 Silver Gemstone earrings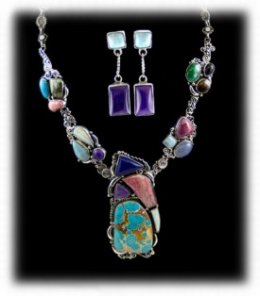 Gemstone Silver Jewelry
Gemstone Silver Jewelry has become some of the most popular Jewelry on earth in recent years. Sterling Silver is now the most popular precious metal among
new age individuals from 12 to 36 years of age and colored gemstones are favoured by over 75% of the modern civilization of the world. Gemstone Silver Jewelry is the specialty of our company and it is our pride to offer to our Gemstone Silver Jewelry of unquestionable quality.
Durango Silver Company has been in business now for nearly 40 years producing handmade Sterling Silver Jewelry for the American market. Colored Gemstones including Turquoise, Corals, Opal, Lapis, Sugilite, Gaspeite, Ruby, Amethyst, Peridot, Garnet and others are standard Gemstones used to make our Gemstone Silver Jewelry as well as the Gemstone Silver Jewelry we handle from other contemporary and Native American Artisans from the Southwestern regions of the USA.
Gemstone Silver Jewelry from Durango Silver Company
Gemstone Silver Jewelry such as the necklace set on the left are works of art by John Hartman of Durango Silver Company. John has been a Silver and Goldsmith for over forty years and has designed Jewelry for many great Jewelry companies such as the Fred Harvey Company, the May Company, the Sundance Catalog, the Buffalo Bill Historical Center and many more. He has been featured in many magazines such as the Wall Street Journal, Ralph Lauren, Glamour Magazine and many others. Johns Gemstone Silver Jewelry has become known worldwide by important collectors and is absolutely timeless.
Above and to the left is a Gemstone Necklace made in Sterling Silver with Royston Turquoise, Fire Opal, Sugilite, Rhodocrosite, Lapis, Larimar Burmese Ruby, Blue Chalcedony, Broken Arrow Turquoise, Amethyst and Fire Agate. In this unique piece of gemstone silver jewelry, a wide variety of Gemstones create an unusual design that is very attractive when worn. John Hartman is well known for designing as well as producing some of the most unusual Gemstone Silver Jewelry coming out of the Southwest today. Check out RoystonTurquoise.com to learn more about Royston Turquoise and how you can personally mine Turquoise at the Royston Turquoise Mine.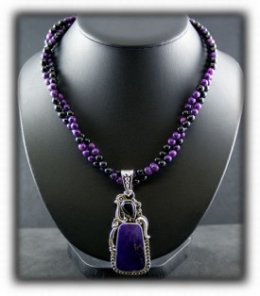 Above and to the right is a Sugilite Bead Necklace featuring a large elegant swo stone, natural Sugilite and Black Onyx in Silver Pendant by John Hartman. The Beaded Necklace it is stung on consists of two strands of round Black Onyx and deep purple Sugilite and finished with a custom sterling silver floral toggle. The beads were hand strung by Nattarika Hartman of Durango, Colorado. The beads hold a one of a kind, filigree pendant that features a teardrop of Natural Black Onyx and a large freeform Sugilite cabochon from the Wessel's mine in South Africa. These stones are surrounded by fancy filigree designs made of Silver raindrops, wire and repose work.
Gemstone Silver Jewelry Examples
To the left is a Sterling Silver Bracelet featuring a hand cut Tortoise Turquoise Gemstone from Nevada. You can see more photos of this piece by going to its presentation page. This unusual Bracelet was made in Johns Victorian Silver design that has an old world look and is most interesting in person, take a look at the side views as the Silver work is not something you see from any other Artisan. Check out TortoiseTurquoise.com to learn more about Tortoise Turquoise.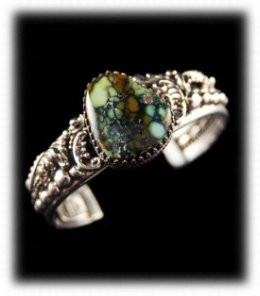 To the right is a beautiful Gemstone Beaded Bracelet hand made with authentic gemstone beads by Nattarika Hartman. Nattarika makes a wide range of Beaded Bracelets and they are all awesome as she really does have the eye for gemstone beaded Jewelry. Nattarika is Dillon's wife, she is from Chiang Mai, Thailand, has a degree in commercial art and textiles, she is a very talented person in many ways. Her Jewelry is outstanding and has a look that is unique to herself. We hope you will follow her work as she is innovative and a talented Artisan moving forward in great directions.
To the left is a great piece of Gemstone Silver Jewelry made with authentic Mediterranean Coral and accented with Colorado Gold Nuggets. Durango Silver Company is known worldwide for producing high quality unusual Silver Jewelry such as this beautiful Silver Mens Ring. Many of the gemstones that are used by our company are from mines that are extinct or no longer producing for one reason or another. In this case, Mediterranean Coral has become very scarce as it has been over harvested of decades and now mining red Coral in the Mediterranean Sea is highly restricted.
To the right is a Gemstone Silver Ring produced by Durango Silver Company and a exceptional piece of Gemstone Silver Jewelry at that! This fantastic Silver Mens Ring features a rare Bisbee Turquoise Gemstone along with exceptional Silverwork which makes this a genuine one-of-a-kind piece of Jewelry Art. This is another example of rare and unusual gemstones used in Durango Silver Company Jewelry. Check out BisbeeTurquoise.com to learn more about Bisbee Turquoise.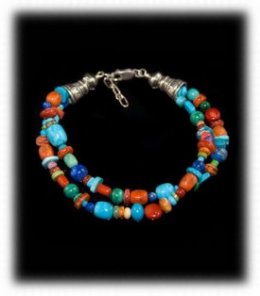 To the left is a pair of Gemstone Earrings set with Rhodocrosite and Amethyst. We usually have many unusual gemstone Earrings in Sterling Silver on hand and hope you will come back often to see what we have added since you were last here. Read more about this pair of Silver Earrings on their presentation page to learn more about Gemstone Silver Jewelry earrings. We also invite you to join our Newsletter group where you can win beautiful Silver Jewelry in an ongoing monthly drawing. We also send out newsletter about once every other month informing our members of new things we are making and special deals for members only. Join our other friends now.
To the right is a pair of beautiful Gemstone Silver Earrings. They were Navajo Indian handmade in Sterling Silver with Sleeping Beauty Turquoise, Sugilite, Mediterranean Coral, and Gaspeite. This is a classic style of Navajo Gemstone Silver Jewelry that they have been creating in different versions for many generations of Navajo Silversmiths. The Navajo Indian Silversmiths are prolific in their Silver work and aggressively excel in creating new ideas in both Silver work as well as lapidary work. Navajo Gemstone Silver Jewelry is made in a wide variety of styles and Durango Silver Company always has a good selection of quality Navajo Jewelry for you to choose from.
To the left is a beautiful piece of Gemstone Silver Jewelry created by Crystal Hartman. This beautiful Silver Pendant features a Boulder Opal Gemstone from Australia in an exceptional Silver design by Crystal. Crystal is the Daughter of John and Estell Hartman, she has a degree in fine arts and has shown her artwork in many fine museums around the world. Crystal's wax carving is exceptional, extremely creative and makes spectacular Gemstone Silver Jewelry, read more about this particular Opal Pendant on its presentation page. Also read more about Crystal Hartman on her presentation page.
To the right is another beautiful Sterling Silver Gemstone Pendant made by Crystal Hartman. This Pendant features a large purple Sugilite gemstone that Crystal has enhanced in an unusual carved wax design. Crystal has created a grape vine, leaf and grape style design around this luscious purple gemstone that makes this piece very attractive when worn. You can see this item as well as many other pieces of Crystals Silver work by typing her name in the search box to the upper left hand side of this page.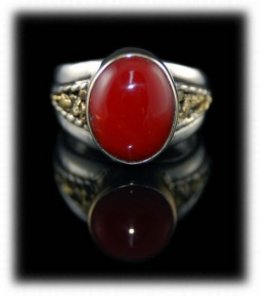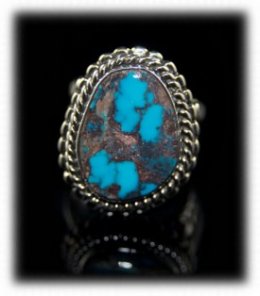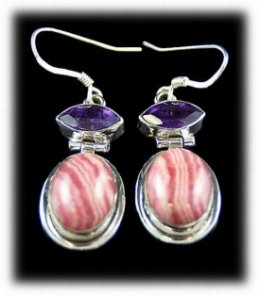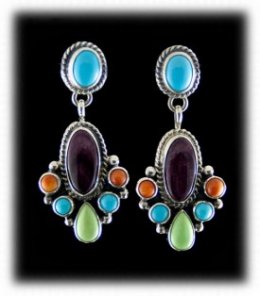 Source: www.durangosilver.com